XPAT
IP Meeting
What actually comes AFTER the patent circulation? Companies in which it has been realized how important and essential their own handling of the patent situation in question is, operate an internal patent circulation.
Once the documents have been evaluated, the question of "what happens next?" arises, i.e. decisions have to be made on how to deal with important patent documents. In most companies, this is not a question for just one individual in the patent department, but usually a team effort between developers, department management and the patent department.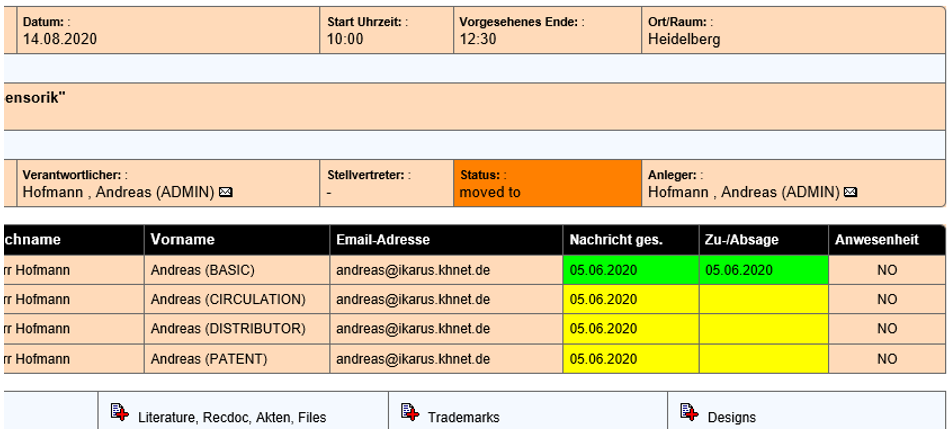 The XPAT IP Meeting Tool supports companies in organizing, conducting and following up IP meetings. Meetings can be organized regarding patent documents, trademarks, designs and even literature data, by which we mean documents from XPAT Litdoc, XPAT RecDoc or XPAT File.
XPAT IP Meeting bridges the gap between patent circulation and the initiation of opposition proceedings, the decision to drop an IP right and the initiation of the development of a workaround or the decision to start licensing negotiations. Often it is also a matter of determining that more precise and detailed research is needed.
XPAT IP Meeting, together with XPAT and all the other modules, logs and documents everything that is decided, proposed and rejected in the IP area. This creates clarity, transparency and forms a truly sound basis for decision-making.
XPAT is more than just a patent information system. XPAT is a conscious approach to the essence of intellectual property rights. Design or just use. Whoever designs, shapes and forms expertise. But what would be needed more in today's world than people who really know something? XPAT supports users in every aspect. With XPAT, everything comes from a single source.
Direct linking of all documents to their meetings
Documents visible and editable from within the meeting
Definition of tasks in workflows, controlled by the system
Electronic invitation via email, acceptance or rejection via link
Re-invitation in case of postponement - information in case of cancellation
Documentation of attendance - Dispatch of minutes