Welcome

to the G.E.I. KRAMER & HOFMANN mbH

Our company has specialized in databases and information systems for customers from industry, law firms and institutes since 1989. We have set ourselves the goal of being able to offer a professional solution for every task that arises in the field of patents.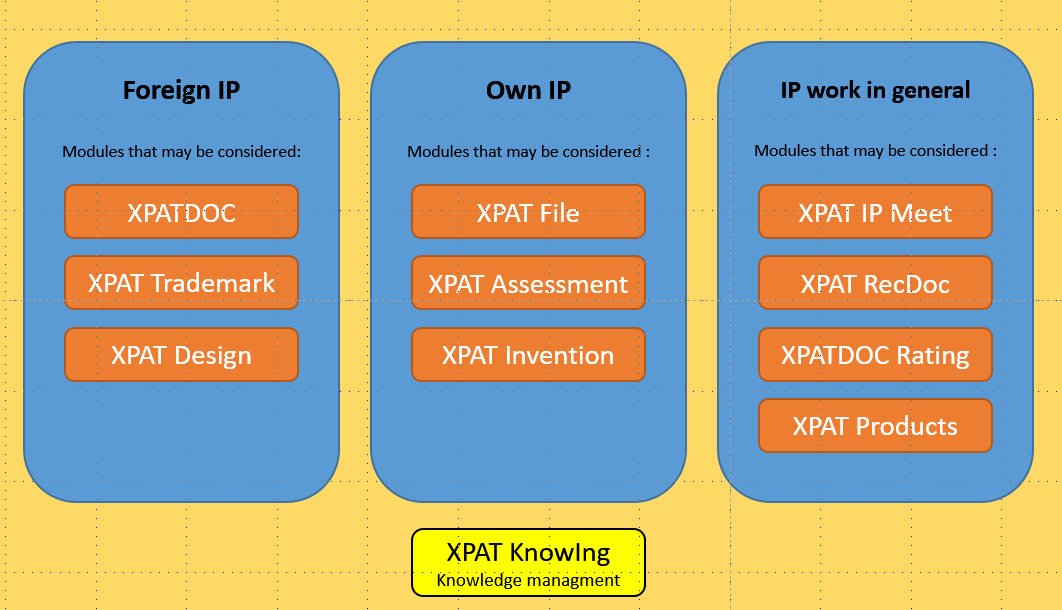 Our focus is on patent information systems with our main product XPAT, which supports all facets of patent work with various modules:
Patent monitoring, patent surveillance
Patent circulation, commenting, classification, statistics, reports
Search documentation, feature analysis
Industrial property rights management, inventor compensation, dates and deadlines, form letters
Dynamic Virtual Marking, Patent Alerts, Translations
Patent meetings, IP evaluation, AI connection
Active, structured knowledge management by XPAT KnowIng
To round off our system around the topic of "Intellectual Property", we offer further important modules in addition to the patent information system XPAT, the intellectual property rights management XPAT FILE, the trademark and design information systems XPAT Trademark and XPAT Design.
Knowledge management in the company is incredibly important. Who is not vigilant here, wastes great potential. This is where our product XPAT KnowIng comes in, documenting knowledge, making it available to target groups and keeping it up-to-date with the help of the software.
Patent departments are constantly researching the state of the art, for freedom-to-operate and also whether company-internal invention disclosures can be sustained. To avoid always having to start from scratch, we have implemented the XPAT RecDoc module, which documents these searches. The searches are thus reproducible and it is possible to continue searches that have already been carried out. Thus, one no longer starts from scratch, but builds on what has already been achieved. In addition, there is a feature for researching the legal validity of a document.
Another important field is covered by XPAT IP Meeting. After patent circulation, it is necessary for experts to exchange ideas on how to proceed with IP rights? Should IP rights be dropped, should an opposition be filed, should invention disclosures be claimed? All of this will be documented and meetings will be easily organized in the future.
As a supplement to these standard modules, we also offer patent databases, knowledge management systems, database-supported portal solutions, the standards information system XPAT Standards and much more, all individually created for our customers on the basis of the software Interhost developed by us.
XPAT

- the patent information system

XPAT is the patent data information system that takes into account all aspects of patent work and is a most beneficial offer if you want to build up your own information system. The various functions, connected to numerous field-proven workflows, provide users with patent, literature and "state of the art" information in a simple and efficient manner. Besides patent circulations, awareness services, visualization of results, patent families, citation trees, statistics, and export reports XPAT offers a large functionality and enjoys the trust of renowned industrial companies around the world.

XPAT patent information system XPAT patent monitoring and workflow
XPAT Data KHPS

- the patent data service on basis of a Questel interface

XPAT is now equipped in addition to the use of free data with one of the biggest online databases in the world, the Questel database. This database is offered as a subscription. In addition to the comprehensive range of data, the English full texts of Chinese, Japanese, Korean, Russian, Brazilian, German, French etc. documents are a very important success factors for your own patent work. Questel keeps more than 65 million documents. This Questel database is the backbone of the new XPAT Data KHPS or in the long form: KRAMER & HOFMANN Patent Service.



---
Due to the requirement of customers the following XPAT modules have been developed: